Gaussian blur
Author: Robert Haase, Daniela Vorkel, April 2020
This macro shows how to blur an image in the GPU.
First, we get test data:

run("Close All");

run("Blobs (25K)");
run("Invert LUT");
input = getTitle();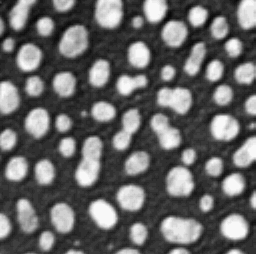 Initialize GPU
Push image data to GPU memory:

run("CLIJ2 Macro Extensions", "cl_device=");
Ext.CLIJ2_clear();

// push images to GPU
Ext.CLIJ2_push(input);

// clean up ImageJ
run("Close All");

Apply a Gaussian blur filter in GPU
We apply a filter to an image by specifying the input image, the output image and other parameters:

Ext.CLIJ2_gaussianBlur3D(input, blurred, 5, 5, 1);

// get results back from GPU
Ext.CLIJ2_pull(blurred);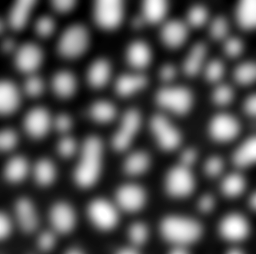 Note: In contrast to CLIJ, the variable blurred contains the name of the output image and does not need to get specified. CLIJ2 automatically names images, as shown with the print(); statement:

print(blurred);


> CLIJ2_gaussianBlur3D_result11

If you don't like the image names created by CLIJ2, just rename them as you wish before calling the filter function.
Clean up GPU
At the end of the macro, clean up GPU memory:

Ext.CLIJ2_clear();